An elegant location for lounging weddings and events , Located in Picard, Avie's Sleep Inn is just ideal for persons visiting families attending the Ross University and for shot stay visitors.
Avie's Sleep Inn comprises of three suites and a laundry room. There are two pools on the premises but the smaller one has a very unique feature. The pool is sourced from a natural hot water spring in the area. The water is very hot and is therapeutic.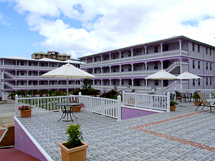 Price per Room
US$100 /nightly

You will have fond memories of stay here.

* Please note that 10% VAT Not included in price